Secured storage company Via Mat, with which many firms offering physical gold investment and storage operate, has just announced that it would not accept American citizens as clients.
Via Mat has a strong presence in the United States, thus it is very much exposed to the U.S. government fiscal regulations.
This letter from ViaMat management explains their decision:
"We are currently experiencing rapid and substantial changes in the general regulations within this business. The changes mainly relate to the tax structures and taxation systems of various countries. As a consequence of these changes VIA MAT INTERNATIONAL has taken the decision to stop offering this service at its vault [sic] outside of the US to private customers with potential US-tax liability."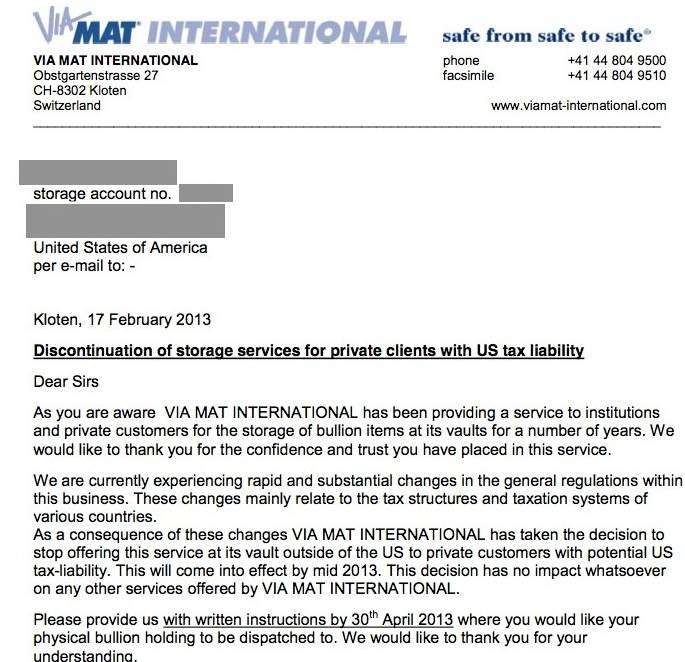 This decision does not concern Goldbroker.com's clients in any way : Goldbroker.com's partner for secured storage is Malca-Amit, which is not exposed to the U.S. market.
We have selected Malca-Amit for many reasons, some that differentiate it from Via Mat :
- There is no counterparty risk, meaning no intermediary between our clients and their gold or silver holdings.
- Our storage partner knows the identity of each of our clients.
- A storage account is open in the name of each of our clients. This means that Goldbroker.com does not store metals in the name of its clients; each client has his own storage account.
- Our clients are issued a personal ownership/storage certificate in their name in order to establish a link between the client's identity and the bar(s) serial numbers.
- Our clients have direct access to Malca-Amit' secured vaults, and can do so without a member of our society being present. This is made possible by the fact that Malca-Amit knows the identity of each of our clients.
When we created Goldbroker.com, we analysed the different offers from the secured storage companies. And, since Via Mat could not guarantee the issuance of storage certificates in the clients' names, or some of the elements mentioned above, we selected Malca-Amit.
With Goldbroker.com, one can own physical gold or silver directly in one's name without any intermediary and store it outside of the banking system.
As for the reasons for storing gold in Switzerland instead of other jurisdictions like Hong Kong or Singapore, they are explained by Egon von Greyerz in this article.