Six months ago we warned that Austria was considering it, and now, as Kronen-Zeitung reports, with no rigged Swiss-like referendum required, Austrian Central Bank Governor, and the person many claim is in Mario Draghi's inner circle of trust (soon to be revised) Edwald Nowotny has committed to repatriating 110 tonnes of gold. This is part of Nowotny's new "gold strategy" and with his position (on paper) as one of Draghi's foremost lieutenants, appears to be a big stab in the back for super money printing Mario.
While gold withdrawals from the NY Fed have been incessant over the past year...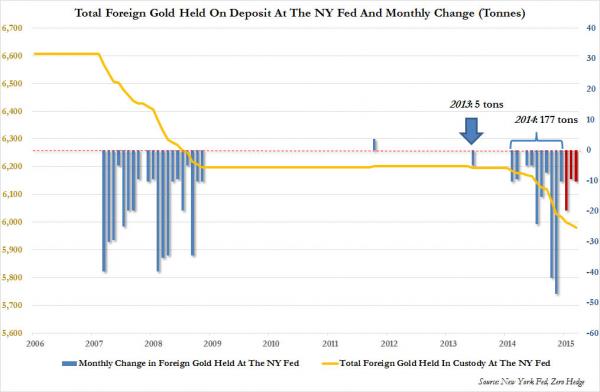 ... this time it appears the Bank of England faces the trust-fall as 80% of Vienna's gold is held there.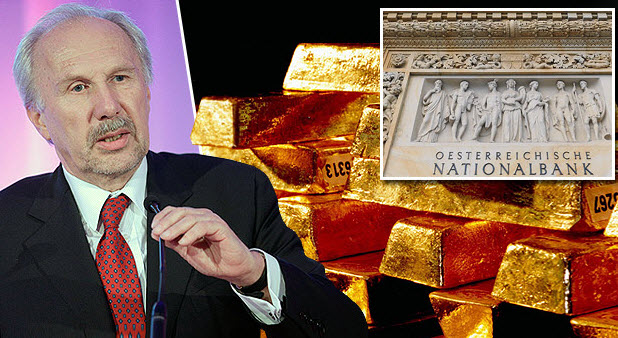 CENTRAL BANK TO BRING MOST GOLD RESERVES BACK TO AUSTRIA: KRONE
KRONEN-ZEITUNG REPORTS ON AUSTRIAN CENTRAL BANK'S GOLD PLANS
AUSTRIA TO TRANSPORT 110 TONNES GOLD BACK TO AUSTRIA: KRONE
Austrian central bank plans to keep 50% of its gold reserves in Austria vs 17% now, Kronen-Zeitung reports, citing governor Ewald Nowotny's unpublished new "gold strategy." Bloomberg adds,
30% of gold reserves to be kept in U.K., down from 80% now
20% to be kept in Switzerland vs ~3% now
Intention is "risk diversification:" Krone
Overall, Austria has 280 tonnes of gold reserves, according to central bank's 2013 annual report.
"For the population that is good news, because polls show that this corresponds to the wishes of the majority.
Since 2007, no gold has been sold, and also according to the Central Bank's new strategy, this "emergency reserve" will not be touched."
Following the repatriation, Austria will have at least half of its gold located on its own territory, with gold held at Threadneedle Street tumbling from 80% of total to just 30%, with the remaining 20% will be held in Switzerland. According to Krone, the 110 repatriated tons will be "transferred back" in small tranches over the coming months.
So to summarize: so far the following recent gold repatriations have taken place:
As for what this ever more aggressive scramble by official monetary authorities to repatirate their gold means, we hardly need to comment what that means for the future of "non-6000 year old, non-traditional" fiat currencies.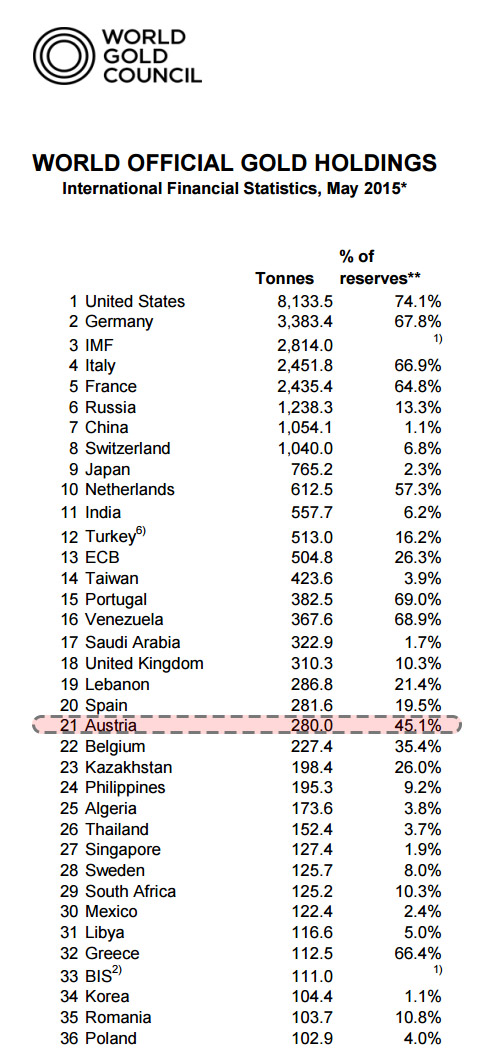 So why is Austria engaging in a move that will be seen as merely the latest slap in the face of a crumbling fiat regime? "Risk diversification" accordig to Krone, which also adds that "that is good news for the Austrian population, because polls show that this corresponds to the wishes of the majority." After all, Krone adds, "the German Bundesbank - in late 2013 - decided to bring half of its gold reserves to Frankfurt, the rest remains in New York and in London."
But what "risk" is there to diversify? After all there is a saying: "As safe as the Bank of England." Well, as a reminder - this is what happens when you hand your gold over to The Bank of England for "safekeeping"...
The information contained in this article is for information purposes only and does not constitute investment advice or a recommendation to buy or sell.