China raised its gold reserves for a ninth straight month in July.
Bullion held by the People's Bank of China rose by 740,000 troy ounces, the central bank said on Monday. That's equivalent to about 23 tons. Total stockpiles now sit at 2,136 tons, with around 188 tons added in a run of purchases that began in November.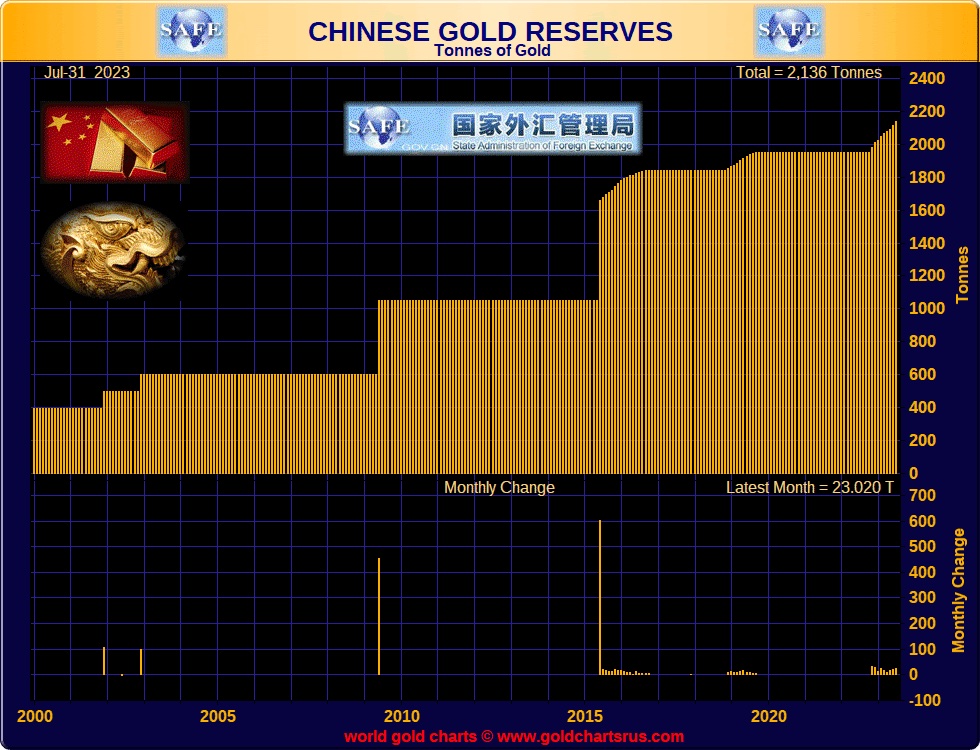 China has led central bank buying in recent months as it continues to diversify its reserves. That's helped keep prices buoyant despite rising interest rates around the world, which typically sap demand for non-interest bearing bullion.
Official purchases are key to the outlook for prices this year, according to the World Gold Council. The industry body expects central banks to keep adding to their holdings, although at a slower pace than last year when demand surged in the hunt for alternatives to the dollar after the US sanctioned Russia's reserves following its invasion of Ukraine.
Meanwhile, China's total foreign currency reserves rose to $3.204 trillion in July, up 3.2% on the year and 0.4% on the prior month.
China Makes its Mark on the Gold Market (@julienchler)

▶ https://t.co/TYQAoTWuPj#China #BPoC #gold #dollar #dedollarization pic.twitter.com/yMWTSdoqjZ

— GoldBroker (@Goldbroker_com) May 30, 2023
Original source: Bloomberg
The information contained in this article is for information purposes only and does not constitute investment advice or a recommendation to buy or sell.