The European Central Bank cut its key interest rate and launched a sweeping package of bond purchases Thursday that lays the groundwork for a long period of ultraloose monetary policy, jolting European financial markets and triggering an immediate response from President Trump.
European Central Bank, acting quickly, Cuts Rates 10 Basis Points. They are trying, and succeeding, in depreciating the Euro against the VERY strong Dollar, hurting U.S. exports.... And the Fed sits, and sits, and sits. They get paid to borrow money, while we are paying interest!

— Donald J. Trump (@realDonaldTrump) September 12, 2019
The ECB said it would cut its key interest rate by 0.1 percentage point, to minus 0.5%, and buy €20 billion ($22 billion) a month of eurozone debt starting in November, relaunching a so-called quantitative easing program that it only phased out in December.
The new QE program is expected to "run for as long as necessary," and only to end shortly before the bank starts raising interest rates, the ECB said.
The ECB also promised not to raise interest rates "until it has seen the inflation outlook robustly converge" with its target of just below 2%. Thursday's cut was the ECB's first since March 2016.
The ECB lasted 9 months without QE

— zerohedge (@zerohedge) September 12, 2019
Mr. Draghi said at a news conference that the ECB was reacting to a longer-than-expected slowdown in the eurozone and persistently weak inflation. "We still think that the probability of a recession in the euro area is small, but it has gone up," Mr. Draghi said.
By launching such a bold stimulus package, Mr. Draghi has left the central bank with very little ammunition to fight any new downturn, while aggravating possible side effects that include asset-price bubbles and weakened banks. Mr. Draghi said the ECB was closely monitoring those side effects, and called urgently on eurozone governments to step up spending to support growth.
The package also binds the hands of Mr. Draghi's successor, former International Monetary Fund Managing Director Christine Lagarde, who will take office on Nov. 1.
With interest rates falling further below zero, the ECB also moved Thursday to provide relief for the region's embattled banks, whose profits have been hurt by negative interest rates. The ECB will create a mechanism to shield banks from the full force of negative rates, and sweeten the terms of a fresh batch of long-term loans.
Gold prices pushed higher in initial reaction to the expected dovish announcements.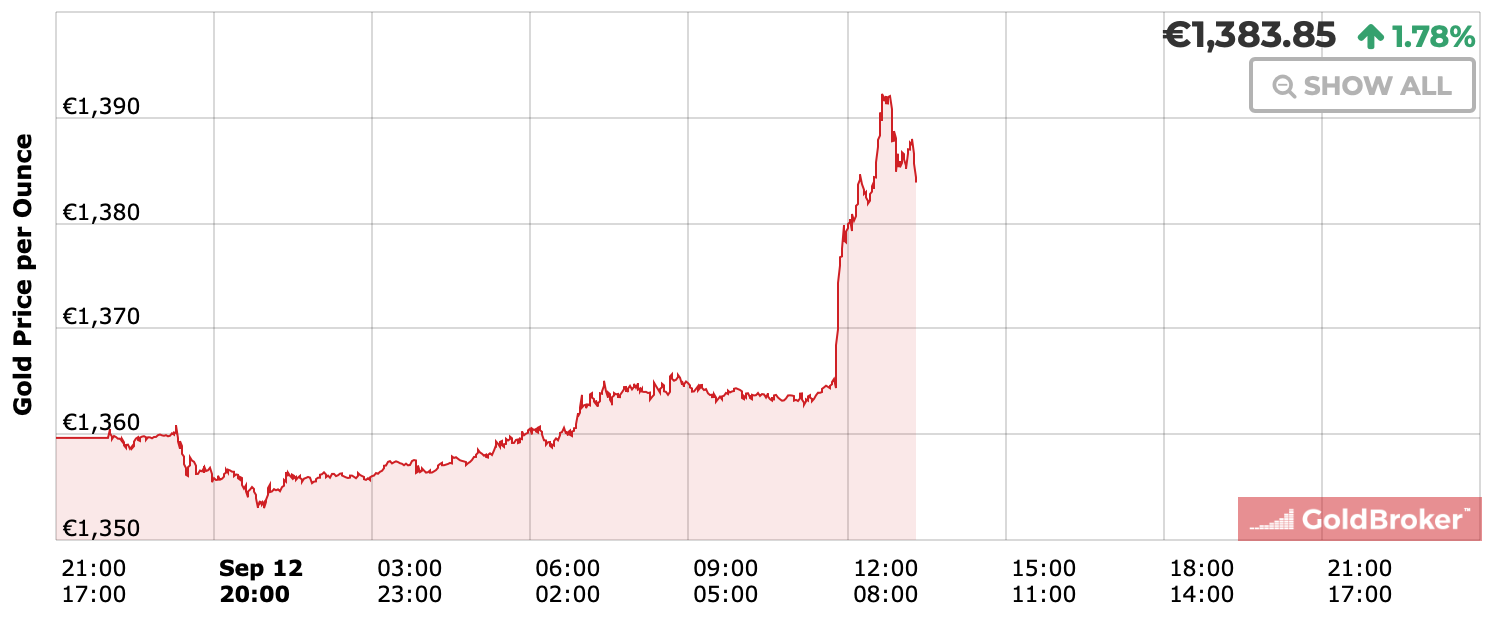 Original source: WSJ