Investors bought record amounts of gold in the first half as concerns over Britain's vote on European Union membership and U.S. presidential elections drove demand for a haven.
Slumping yields also reduced appetite for alternatives like stocks and bonds.
Purchases of 1,064 metric tons smashed a 2009 record by 16 percent, the World Gold Council said in a report Thursday. In the second quarter alone, investor demand more than doubled to 448.4 tons from a year earlier. Higher prices hurt jewelry demand and increased supply from hedging and scrap.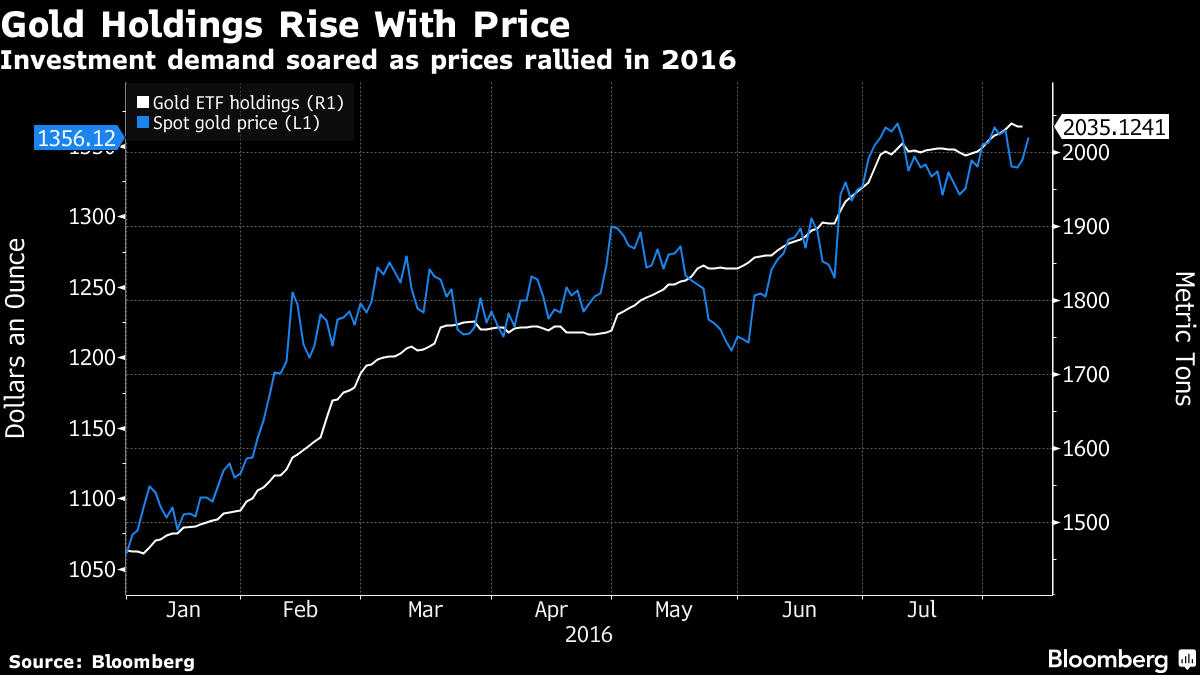 Gold prices jumped 25 percent in the first half of the year, the most in four decades, even as consumer demand slowed in India and China, the biggest buyers. Investors piled into bullion-backed exchange-traded funds as political risks including Brexit and a Donald Trump candidacy for the U.S. election became realities. Negative rates on sovereign bonds of many nations also erased their advantage over gold's zero yield.
"The increase in investment demand helped make gold one of the best performing assets of the year, comfortably outperforming many equity indices, bonds, commodities and real estate," Alistair Hewitt, head of market intelligence at the London-based council, said by phone. "Western political developments, significantly Brexit and the looming U.S. elections were key factors creating uncertainty."
For a primer on the investment case for gold after Brexit, click here.
While investor interest expanded, demand from other buyers was muted as prices rose. Holdings in ETFs backed by gold jumped 34 percent to 1,952.5 tons in the half, data compiled by Bloomberg show. At the same time total bar and coin demand was little changed, the council said.
The rise in prices also hurt demand from top consuming countries. In India, consumer demand dropped 18 percent in the second quarter from a year earlier, while in China it sank 14 percent, the figures showed.
"There has been an adverse effect on some large, price-sensitive jewelry markets, notably India and China," Hewitt said. "The jewelry market is weak."
Even buying here may accelerate later this year, with India's wedding season expected to unleash pent-up demand, according to the council. Still, it has cut full-year forecasts for Indian consumption to 750 to 850 tons, and for Chinese to 850 to 950 tons. In May, it had estimated 850 to 950 tons in India and 900 to 1,000 tons in China.
Demand from central banks slowed for a third straight quarter, dropping 40 percent year-on-year to 76.9 tons. They may buy 400 to 500 tons this year, down from 566.7 tons last year.
On the supply side, higher prices increased producer hedging and pulled in scrap metal for recycling. The council said scrap rose 23 percent to 327.7 tons in the quarter. Producer hedging rose to 30 tons after being a net-source of demand in the same period a year earlier. Total supply increased 10 percent to 1,144.6 tons.
The council expects global gold demand of 4,200 to 4,300 tons for the year, from 4,218.1 tons in 2015.
More quarterly demand and supply figures:
Total consumer demand fell 9 percent to 655.7 tons.
Combined bar and coin demand rose 1 percent 211.6 tons.
Jewelry purchases fell 14 percent to 444.1 tons.
Mine production was barely changed at 786.9 tons.
Demand for use in technology, including electronics and dentistry, dropped 3 percent to 80.9 tons.
Source: Bloomberg
The information contained in this article is for information purposes only and does not constitute investment advice or a recommendation to buy or sell.