We have followed the ownership changes of London's massive vaults with keen interest ever since our December 2014 article when we reported that Deutsche Bank's gold vaule was for sale in "Massive 1,500 Ton Gold Vault For Sale In The Heart Of London, One Previous Owner, Asking £4,500,000 O.B.O." The fate of that particular vault was revealed earlier this year when Reuters reported that none other than China's largest bank, ICBC Standard Bank, was buying the lease on Deutsche Bank's London gold and silver vault, "enlarging its footprint in the city's bullion market"
The Chinese and South African lender is aiming to fill the gap left by Western banks, which are retreating from commodities to cut costs and reduce regulatory burden. "They (ICBC Standard Bank) have taken on the lease for the vault," the first source said.
Deutsche Bank's vault became operational in June 2014 and has a capacity of 1,500 tonnes. It was built and is managed by British security services company G4S. "The figure that was initially talked about may have been around $4 million, but it's way lower now," a second source said, without disclosing the figure paid for the vault.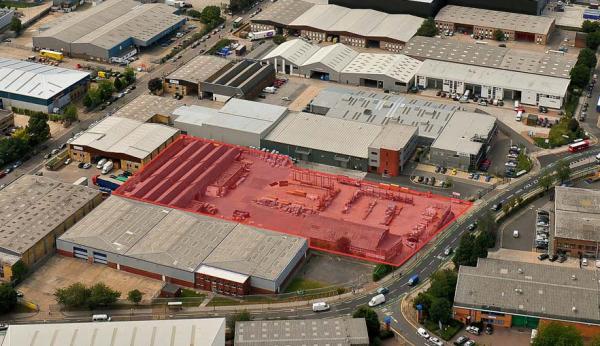 We thought that ICBC would be content with its purchase of one of London's biggest vaults but that appears to not have been the case. Earlier today, ICBC Standard Bank reported that it was also buying Barclays' London precious metals vault, giving the Chinese bank the capacity to store gold worth more than US$80bn in the secret location.
The vault, which can store 2,000 tons of gold and other precious metals such as silver, platinum, palladium, was opened by Barclays in 2012 and took more than a year to build. The location of the vault is secret, but the lender has said it's within the M25 road that orbits London.
"This is an exciting acquisition for the Bank. This enables us to better execute on our strategy to become one of the largest Chinese banks in the precious metals market," Mark Buncombe, head of commodities at ICBC Standard Bank, said in the statement. "The acquisition of a precious metals vault allows us to expand our services in clearing and processing."
Barclays' decision to exit the business comes as U.S. and European Union regulators investigate whether at least 10 banks, including Barclays, JPMorgan Chase & Co. and Deutsche Bank AG -- manipulated prices of precious metals such as silver and gold.
Barclays Chief Executive Officer Jes Staley said in January that the bank was assessing "various options" to exit its precious metals business while vowing to speed up disposals from the bank's non-core unit, which houses 51 billion pounds ($73 billion) of toxic and otherwise unwanted assets.
As Bloomberg reports, China's (and the world's) largest bank expects the purchase of the vaulting business and related contracts to be completed in July, it said in an e-mailed statement Monday. No financial details were given.
About $5 trillion of transactions are cleared every year in London's gold market, which Barclays is exiting as it pulls out of precious metals.
The purchase follows last week's acceptance of the ICBC Standard into London's precious-metals clearing system after last month it won classification as a market maker by the London Bullion Market Association.
With this latest takeover by a Chinese bank of a London mega vault, it leaves only the HSBC gold vault (profiled here recently) where the inventory of the GLD is also stored, not in Chinese hands as well as, of course, the vault of the Bank of England.
Asside from its boilerplate statement according to which the state-backed ICBC seeks to "expand our services in clearing and processing" as of this moment the real explanation behind China's increasingly more clear intentions of becoming the dominant provider of london bullion vaulting services remains unexplained.
Original source: Zerohedge