After Venezuela, Germany, Austria, Netherlands and Hungary prudently repatriated a substantial portion (if not all) of their physical gold held at the NY Fed or other western central banks in recent years, this morning Turkey also announced that it has decided to repatriate all its gold stored in the US Federal Reserve and deliver it to the Istanbul Stock Exchange, according to reports in Turkey's Yeni Safak. It won't be the first time Turkey has asked the NY Fed to ship the country's gold back: in recent years, Turkey repatriated 220 tons of gold from abroad, of which 28.7 tons was brought back from the US last year.
According to the latest IMF data, Turkey's gold reserves are estimated at 591 tons, worth just over $23 billion. This makes Ankara the 11th largest gold holder, behind the Netherlands and ahead of India.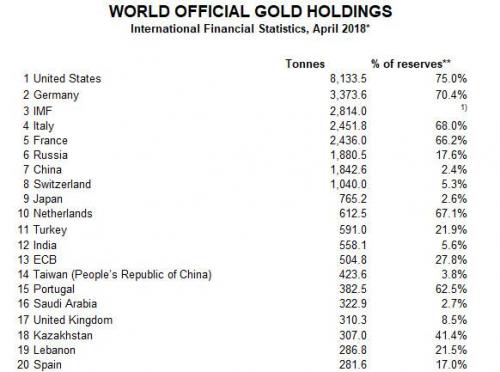 Turkey's gold repatriation come at a sensitive time for Turkey's currency, the lira, which has been pounded, and plunged to all time lows against both the dollar and the euro despite runaway, double-digit inflation in Turkey, as the central bank is seemingly afraid of President Recep Tayyip Erdogan, and refuses to raise rates.
Meanwhile, Erdogan has taken a tough stance against the US currency, criticized dollar loans and saying that international loans should be given in gold instead.
"Why do we make all loans in dollars? Let's use another currency. I suggest that the loans should be made based on gold," Erdoğan said during a speech at the Global Entrepreneurship Congress in Istanbul on April 16, according to Hurriyet.
In what some saw an appeal for a gold standard by the Turkish president, Erdogan added that "with the dollar the world is always under exchange rate pressure. We should save states and nations from this exchange rate pressure. Gold has never been a tool of oppression throughout history."
As noted above, Turkey has been one of several countries which have moved their gold from the world's biggest, and most secure gold vault, that located 95 feet below sea level at 33 Liberty Street in Manhattan, also known as the New York Fed.
The repatriation wave began in 2012, when Venezuela announced it was withdrawing all of its 160 tons of gold at the NY Fed, valued at around $9 billion. Germany's Bundesbank then demanded 300 tons be returned, with the Fed saying it would take seven years to do so; a scrambling Germany was able to complete the process 3 years ahead of schedule. The Netherlands has also repatriated 122.5 tons of gold.
As a result, according to the latest Fed data, the amount of physical gold stored at the NY Fed has dropped to the lowest on record, or 7.819 thousand tons, following a withdrawal scramble that started in 2014 and continued until the end of 2016. After a 15 month hiatus, withdrawals resumed in 2018, with 15.5 tons of gold repatriated in January and February.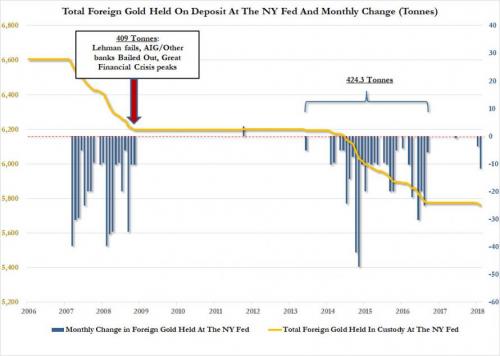 Original source: Zero Hedge
Reproduction, in whole or in part, is authorized as long as it includes all the text hyperlinks and a link back to the original source.
The information contained in this article is for information purposes only and does not constitute investment advice or a recommendation to buy or sell.