Bank of Russia Governor Elvira Nabiullina dismissed the idea of pegging the ruble to gold after the Kremlin said it was a proposal under consideration.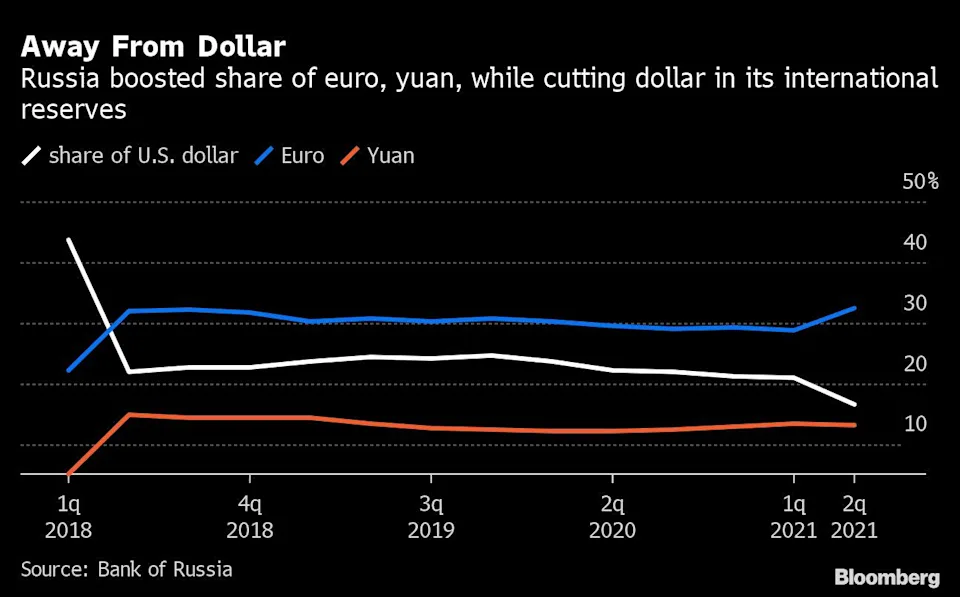 "It is not being discussed in any way," Nabiullina told reporters at a briefing Friday after the central bank cut the key interest rate by 300 basis points. The ruble must continue to have a floating exchange rate, she said, though volatility of the currency will be higher amid capital controls imposed after Russia began its invasion of Ukraine.
Her comment appeared to contradict President Vladimir Putin's spokesman, Dmitry Peskov, who said earlier Friday that "this question is now being discussed." Peskov pointed to comments by Security Council Secretary Nikolai Patrushev on linking the currency to gold and other commodities in an interview with a state-run newspaper this week, while offering no further details.
Unprecedented sanctions on Russia's central bank over the invasion of Ukraine deprived it of access to about half of its holdings, leaving it in possession of only gold and yuan. Before the war, Putin repeatedly argued that Russia needs to cut dependence on the dollar as a global reserve currency.
Speculation has been rife that sanctions on Russia may herald a far-reaching shift that could bolster bullion. Analysts like Credit Suisse Group AG's Zoltan Pozsar predict that the seizure of the central bank's foreign exchange reserves will result in a new monetary paradigm where gold plays a greater role.
Speaking with Rossiyskaya Gazeta, Patrushev said experts are examining proposals to back the ruble's value with gold and other goods as part of an alternative system of finance that guarantees a measure of sovereignty and reduces the link to the dollar:
"For any national financial system to be sovereignized, its means of payment must have intrinsic value and price stability, without being pegged to the dollar.
Now experts are working on a project proposed by the scientific community to create a two-circuit monetary and financial system.
In particular, it is proposed to determine the value of the ruble, which should be backed by both gold and a group of goods that are currency values, and to put the ruble exchange rate in line with the real purchasing power parity."
Continuing a multi-year effort to reduce exposure to the U.S. currency, the Russian central bank cut the share of dollars in reserves to 10.9% as of Jan. 1 from from 21.2% a year earlier. Gold was down slightly at 21.5%.
Until the invasion of Ukraine forced Nabiullina to enact capital controls, the ruble was allowed to trade freely since 2014, its value determined by the market.
Original source: Yahoo
The information contained in this article is for information purposes only and does not constitute investment advice or a recommendation to buy or sell.