BRICS countries are discussing the possibility of establishing a single gold trade system, First Deputy Chairman of Russia's Central Bank Sergey Shvetsov said Friday.
"The traditional (trade) system based in London and partially in Swiss cities is becoming less relevant as new trade hubs are emerging, first of all in India, China and South Africa. We are discussing the possibility to establish a single (system of) gold trade both within BRICS and at the level of bilateral contacts," he said, adding that this system may serve as a basis for further creation of new benchmarks.
According to Shvetsov, the Bank of Russia has already signed a memorandum on development of bilateral gold trade with Chinese colleagues. The regulator plans to form a single trade system with the People's Republic of China in 2018.
"We assume that trade and clearing links should be established. The point is that gold buyers should decide on the place of purchase," the official said, adding that trade links would enable market participants to make deals on international exchanges via the central counterparty.
Last year, the Bank of Russia and the People's Bank of China announced plans to create a platform that would unite gold trading by the world's two biggest gold buying countries. In recent years, the BRICS countries have been taking small steps to reduce the primacy of the dollar in international trade.
Russia, China lay groundwork for BRICS transactions in gold: https://www.goldbroker.com/news/russia-china-lay-groundwork-for-brics-transactions-in-gold-1101
According to the World Gold Council, Russia is the largest official buyer of gold and the world's third-biggest producer, with the central bank purchasing from domestic miners through commercial banks. It has more than doubled the pace of gold purchases over the past decade, adding more than 1,250 tons to its gold reserves. In october 2017, the Central Bank of Russia added 21.77243 tons (700,000 ounces) of gold to her reserves, raising her total to 1800.89 tons (57.9 million ounces).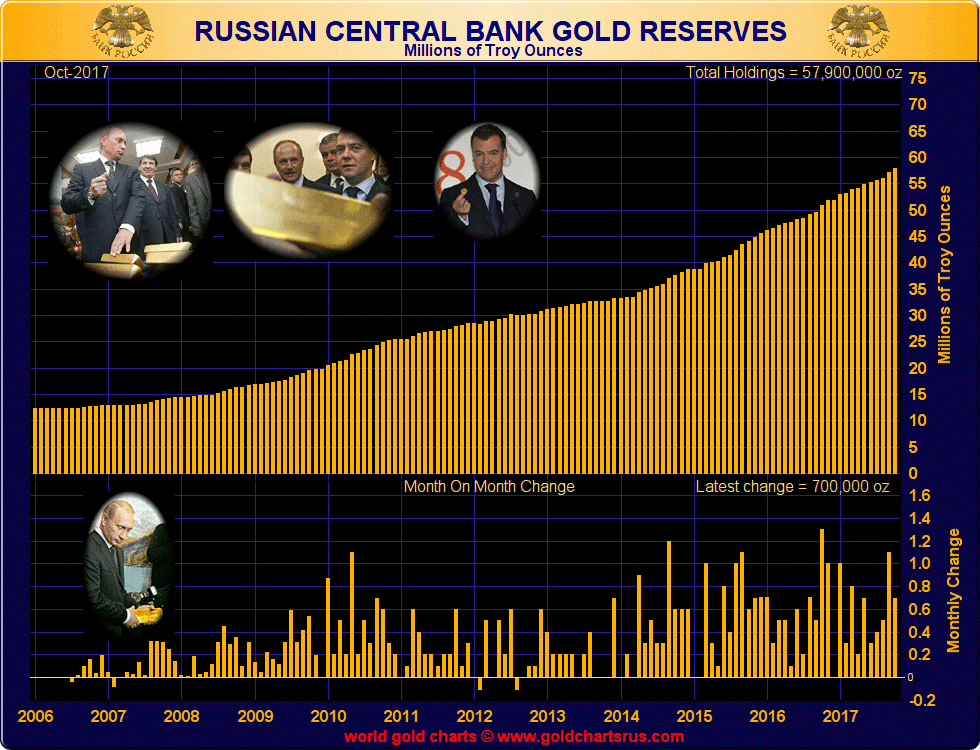 Original source: TASS
Reproduction, in whole or in part, is authorized as long as it includes all the text hyperlinks and a link back to the original source.
The information contained in this article is for information purposes only and does not constitute investment advice or a recommendation to buy or sell.