By Yuliya Fedorinova and Olga Tanas
Vladimir Putin is doing his part to keep the upswing in gold alive.
Since the Russian president went on a geopolitical offensive in Ukraine in 2014, the haven asset had its first annual gain in four years in 2016 and is on track for another in 2017. A beneficiary of economic and political perils from North Korea to Brexit, it's among the top-performing commodities this year.
Meanwhile, the Bank of Russia has more than doubled the pace of gold purchases, bringing the share of bullion in its international reserves to the highest of Putin's 17 years in power, according to World Gold Council data. In the second quarter alone, it accounted for 38 percent of all gold purchased by central banks.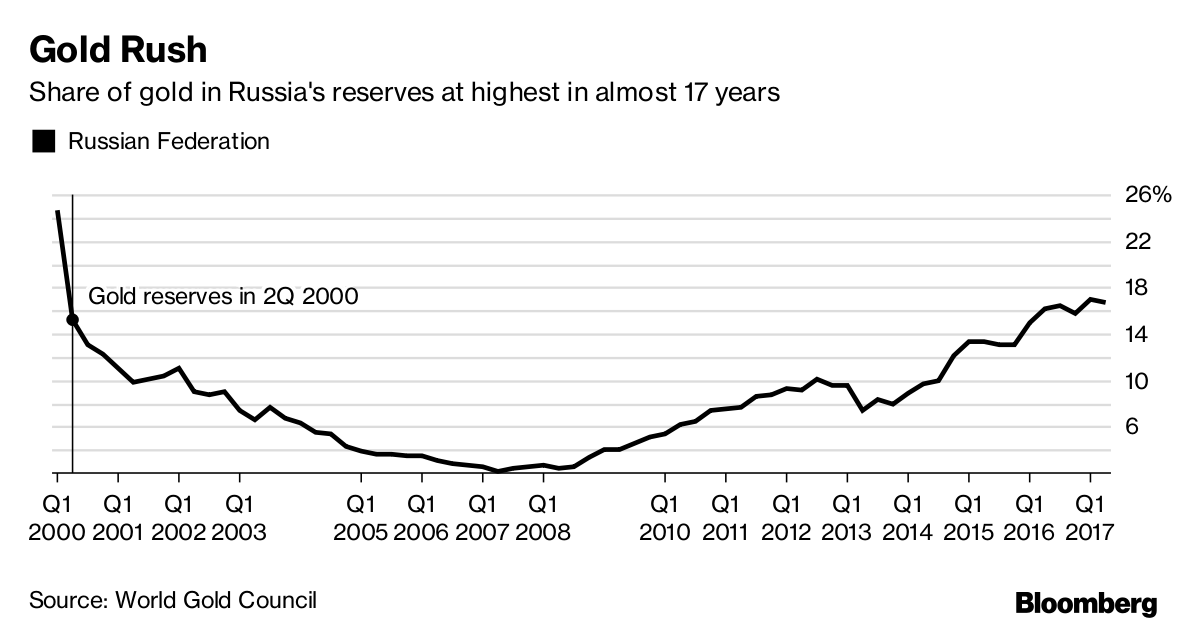 The gold rush is allowing the Bank of Russia to continue growing its reserves while abstaining from purchases of foreign currency for more than two years. It's one of a handful of central banks to keep the faith as global demand for the precious metal fell to a two-year low in the second quarter. But what may matter most is that gold is as geopolitics-proof an investment as any in the age of sanctions and a deepening rift with the U.S.
"Gold is an asset that is independent of any government and, in effect, given what is usually held in reserves, any western government," said Matthew Turner, metals analyst at Macquarie Group Ltd. in London. "This might appeal given Russia has faced financial sanctions."
Besides being the largest official buyer of gold, Russia is also among the world's three biggest producers, with the central bank purchasing from domestic miners through commercial banks and not in the open market.
Since starting to accelerate bullion purchases in 2007, Russia's holdings have more than quadrupled to 1,716 tons at the end of June, just behind China and more than Turkey, India and Mexico combined, according to the World Gold Council. That brought its share in Russia's $427 billion reserves to near 17 percent.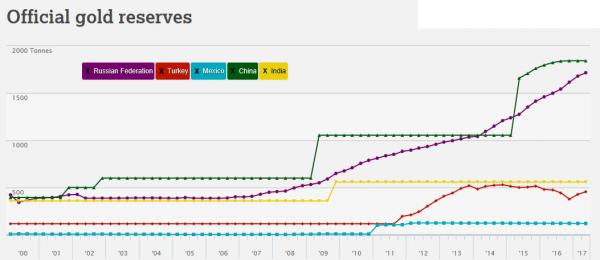 High Tempo
If Russia's buying continues at a similar pace, the World Gold Council said the full-year increase in 2017 "could closely match" the 200 tons purchased annually in 2015 and 2016.
The Bank of Russia declined to comment. Governor Elvira Nabiullina said in an interview last year that a portion of reserves is held in gold to ensure their diversification. Its gold holdings are all stored inside Russia, and the management of investments in precious metals is conducted separately from foreign-currency assets, according to the central bank's website.
Although gold is still up over 11 percent in 2017, prices in September touched the lowest since August and suffered their biggest monthly loss this year. Plans by the U.S. Federal Reserve to tighten monetary policy are sapping the appeal of the non-interest-bearing metal as the dollar rebounds. Bullion for immediate delivery was down 0.3 percent to $1,275.51 at 2:03 p.m. in London.
The high share of gold in Russia's reserves doesn't worry Fitch Ratings, the only major credit assessor that ranks the country above junk.
"In the end, reserves have to be liquid," said Erich Arispe, director at Fitch's sovereigns and supranationals group. Similar to other commodities, gold "can be liquid as well. So at this point, we don't detect any concern about reserves."