China added gold to its reserves for a sixth straight month, extending its purchases of the precious metal as central banks worldwide continued to expand their holdings amid escalating geopolitical and economic risks.
The country's gold reserves rose by 8.09 tonnes to 2,076.47 tonnes at the end of April, marking the sixth consecutive monthly increase in gold holdings, according to data from China's State Administration of Foreign Exchange (SAFE) on Sunday.
"China saw a strong relief rally in the first post-COVID quarter of unfettered consumer spending. The recovering domestic economy and healthy income growth reignited domestic consumption, while the eye-catching gold price performance spurred investment interest," the World Gold Council (WGC) said on Friday.
China is one of the major central banks expanding its holdings of gold as demand for the yellow metal experienced "significant growth" in the first quarter of 2023, WGC said on Friday.
The world's official gold reserves increased by 228 tonnes, hitting a record high for any first quarter since 2010, according to WGC data.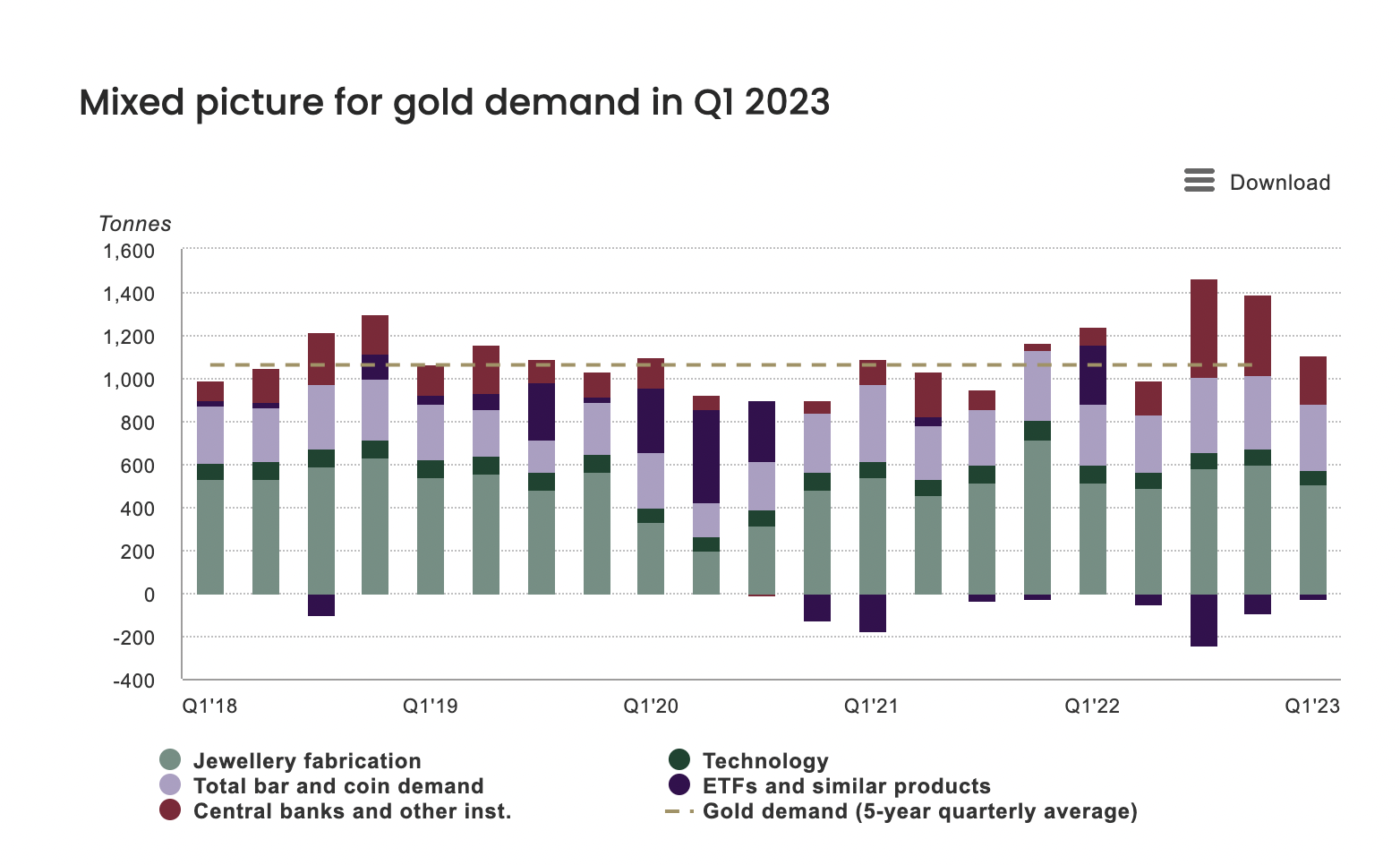 Central banks are actively increasing their gold holdings mainly to avoid credit currency risks and diversify their reserve assets, Xie Yaxuan, head of the strategic research department of China Merchants Securities, told 21st Century Business Herald.
Wang Lixin, the regional CEO of WGC in China, said that China's increase in its holdings of gold sends several signals.
He said that firstly, China's continued economic recovery is likely to benefit overall gold consumption growth. Secondly, Wang said, global geopolitical and financial market risks remain high, and investors are likely to focus more on safe-haven assets such as gold. In particular, with the propensity to save at all-time highs and central banks continuing to buy gold, investor appetite for the bullion is likely to strengthen further, Wang added.
However, Bruce Pang, chief economist and head of research at JLL Greater China, noted that currently, the proportion of gold reserves in China's reserve assets is still very low, and the total amount of gold reserves does not match the size of China's economy and the total foreign exchange reserves.
Pang expects further increases in China's gold holdings in the future and regarded this as a long-term process of optimizing the asset structure of the country's forex reserves.
Original source: Cgtn
Reproduction, in whole or in part, is authorized as long as it includes all the text hyperlinks and a link back to the original source.
The information contained in this article is for information purposes only and does not constitute investment advice or a recommendation to buy or sell.