Press release
Zurich, October 16th 2012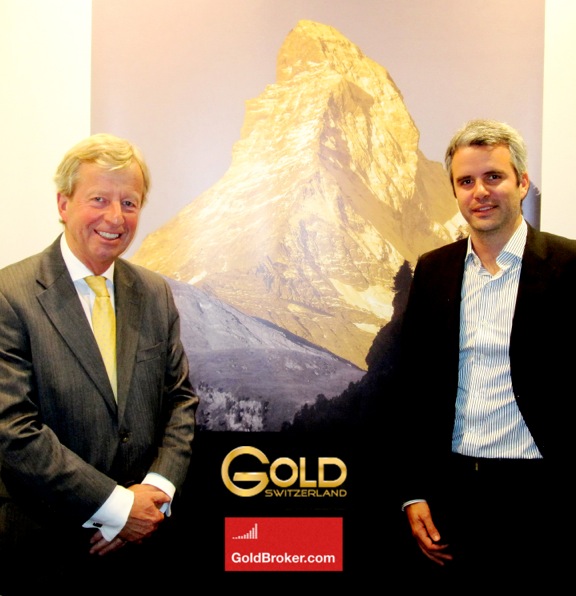 Egon von Greyerz, Founder of Matterhorn Asset Management AG (MAM) and Goldswitzerland.com, has joined the advisory board of FDR Capital (Goldbroker.com).
FDR Capital was founded by Fabrice Drouin Ristori and operates, since 2011, an internet platform called Goldbroker.com which has already experienced very good growth in its first financial year.
Goldbroker.com has designed its business model to provide a niche market for investors to preserve their wealth through the purchase and storage outside the banking system of allocated and segregated physical Gold and Silver from $10,000.
Egon von Greyerz and Fabrice Drouin Ristori recognize many synergies which over time can greatly benefit international investors as well as the two associated companies.
Matterhorn Asset Management, based in Zurich, Switzerland, was founded in 1998 and is specialised in wealth preservation. Their Precious Metals Division, GoldSwitzerland, invests in allocated and segregated physical gold and silver for high net worth individuals and institutions. The metals are stored in ultra-secure vaults outside the banking system and Investors have personal access to their metals.
Egon von Greyerz:
"Goldbroker.com is a very entrepreneurial business which we have known since its inception and which operates in the same field as GoldSwitzerland. We very much look forward to the many benefits our cooperation can bring to assisting many more investors in preserving wealth through our unique concepts."
Fabrice Drouin Ristori:
"We are very pleased to welcome Egon von Greyerz as an advisory board member of our company. Egon's experience and wisdom, his knowledge of the precious metals markets and his excellent international reputation will, combined with our dynamic Goldbroker team, enhance our profile as a strong service provider for private investors in the physical gold and silver market."
Reproduction, in whole or in part, is authorized as long as it includes all the text hyperlinks and a link back to the original source.
The information contained in this article is for information purposes only and does not constitute investment advice or a recommendation to buy or sell.