The correction in gold prices in December doesn't seem to have scared China, since it imported a record amount of physical gold in that month.
As has been the case for the last three years, an increase in the margin requirements for acquiring and maintaining positions in the gold contracts has brought about some liquidation of positions held by leveraged investors who speculate on gold and, thus, a correction on the price.
The timing has been the same for three years, and it's had the same effect on the price, but it hasn't stopped the 12-year ongoing bull market in gold.
China acted on this correction and acquired 114.4 more tons of gold in December, a record amount representing more than Greece's central bank's total gold holdings.
China has imported a colossal 834.5 tons of gold in 2012, almost doubling its 2011 imports of 431 tons.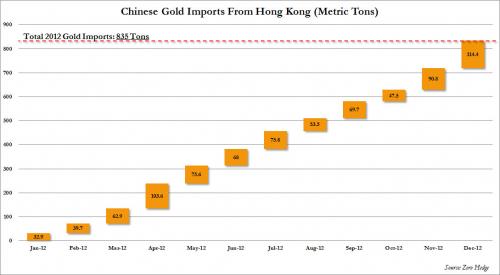 These numbers are provided by the Chinese central bank, and many are suspecting it of not reporting the true amount of gold the country really possesses.
Officially, China holds 1,054 tons of gold but, as soon as 2009, a Chinese State councellor was announcing in the China Youth Daily that China's objective was to acquire 6,000 tons in the next 3 to 5 years, and even 10,000 tons in the next 8 to 10 years.
This physical gold accumulation would let the Yuan be convertible to gold when China decides to impose its money as the world reserve currency.
One must monitor China's behavior to understand the gold market.
China is the world's foremost gold producer, but it continues to massively accumulate gold by absorbing all of its internal production and by intervening directly on the international markets to acquire even more.
It seems that China is adapting, or preparing for an evolution of the international monetary system.
Also worthy of note for analysing the reality of inflation :
• Argentina is on the verge of hyperinflation :
The Argentinian government just decreed a freeze on prices for two months to curb the increase on prices (Washington Post). Inflation could reach 30% this year. It is the direct result of an exagerated monetization of the peso and a lack of trust in the currency. This is a chain of events that is threatening all of the « developed » countries in the years to come.
• Prices for commodities have never been so high at this time of the year :
The 24-commodity heavy S&P GSCI index , a reputable and reliable index for measuring real world inflation, has never been so high for a February month.