Every key area of silver demand is forecast to rise in 2021, including a record total for overall demand - 1.029 billion ounces - the first time it has exceeded 1 billion ounces since 2015. In addition, physical silver investment is forecast to jump by 32% in 2021 for a 6-year high, according to Philip Newman, Managing Director and Adam Webb, Director of Mine Supply, at Metals Focus, during the Silver Institute's Interim Silver Market Review webcast on November 17.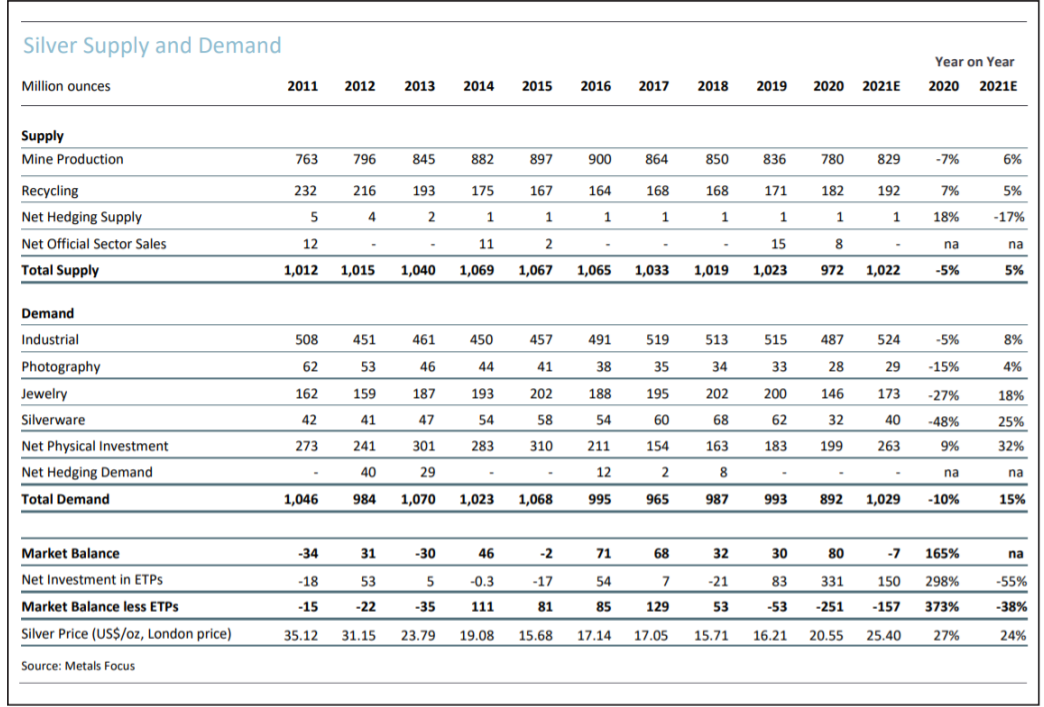 Other highlights included:
• Industrial demand will achieve a new high of 524 million ounces (Moz). This includes a 13% rise to over 110 million ounces in photovoltaic demand, a new high showing silver's key role in the green economy, underpinning much of the forecast 10% gain in silver's use in the electrical/electronic sector. In addition, brazing alloy & solder demand is set to expand by 10% in 2021, helped by a recovery in housing and construction.
• Physical investment in 2021 is forecast to increase by 32%, or 64 Moz, year-on-year to a six-year high of 263 Moz. The strength will be driven by the United States and India. Additionally, on top of solid gains last year, U.S. coin and bar demand is expected to surpass 100 Moz for the first time since 2015.
• Exchange-traded products are forecast to see total holdings rise by 150 Moz in 2021. Consequently, combined holdings will have risen by a dramatic 564 Moz over the past three years. During 2021 and through to November 10, holdings rose by 83 Moz, taking the global total to 1.15 billion ounces, close to its record high of 1.21 billion ounces which occurred on February 2.
• In 2021, mined silver production is expected to rise by 6% year-on-year to 829 Moz. This recovery is largely the result of most mines being able to operate at full production rates throughout the year, following enforced stoppages in 2020 due to the pandemic.
Original source: Silverinstitute
The information contained in this article is for information purposes only and does not constitute investment advice or a recommendation to buy or sell.