Stephen Leeb's book "Red Alert", published in 2012, argues that the Chinese understand the issue of resource scarcity much better than the West and as a result of their accumulation of vital resources may leave the West in a nearly untenable position within the next decade.
The silver market is already in this untenable position !
Leeb, in an interview on KWN, told that the Chinese, who have just 3% of the gold reserves and gold mines with very low-grade ores, are exploiting unprofitable mines. The reason given by his Chinese well-connected alter ego was:
"China needs the gold to back its currency". Apparently, they have been in a hurry to fill that aim for years!
Nearly each argument for gold in that interview could be applied for silver. Analysts should think like the Chinese, while silver had been the only monetary stallion in China for centuries.
And we are just a few months away from a major monetary reform. China has clearly described what she wanted in that essay, published on the BIS's website in May 2009. A kind of SDR backed by "30 representative commodities".
"The allocation of the SDR can be shifted from a purely calculation-based system to a system backed by real assets, such as a reserve pool, to further boost market confidence in its value."
Analyzing the silver market, without taking into account the ongoing monetary reform, and the will expressed by the governor of China's central bank, makes no sense.
LBMA
Below, the first chart shows you the LBMA' members monthly silver transfers in Moz (blue) and the number of transfers during 2009 and 2010 (red).
100 Moz a month was a maximum at that time, and the average number of monthly transfers between members was about 300.

During the last two years, 2017-2018, you can see, on the chart below, that the number of transfers has been multiplied by 3.
The average monthly transfer is above 200 Moz, twice as much as in 2009-2010.

Did the industrial demand double between 2010 and 2018? No! It decreased.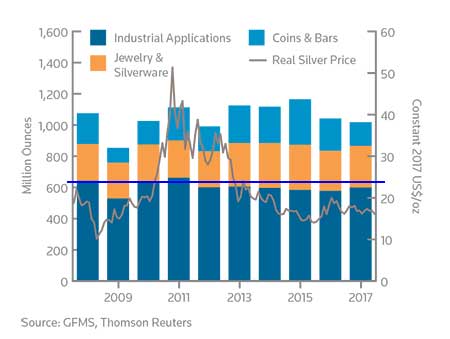 Did the occidental ETF silver stocks grow between 2010 and 2018? No! Most of their stocks decreased.
JPM built up a stack or 144 Moz between 2011 and 2018, buying an average of 20 Moz a year or 1,7 Moz each month. You could not miss see that tiny monthly move on this chart.
There is a great probability that JPM's silver stock had been accumulated to refund a Chinese lease to the US Treasury.

It is evident: there has been a huge shift, an enormous change on the silver market at the end of 2010.
In 2009, the LBMA's members moved from one vault to another a total of 1 064 Moz. In 2017, they transferred 2 390 Moz.
In 2018, the figures could be 2 890 Moz if the second half of the year follows the sustained pace of the first six months (1 445 Moz).
So China has taken steps to lead all the metals market in the world… These are all the steps needed to succeed with the current monetary reform.
In May 2012, ICBC which was already a top player by volume on China's Gold and Futures Exchanges, declared seeking membership of overseas exchanges and aiming to become a major global bullion market maker.
In June 2012, HKEX bought the London Metal Exchange (LME).
In October 2013, China bought JPM-Chase's Gold Vault in New York.
In January 2016, ICBC bought the lease on Deutsche Bank's huge London gold and silver vault, enlarging its footprint in the city's bullion market
In April 2016, ICBC joined the LBMA's market maker team.
In May 2016, ICBC bought Barclays precious metals storage business.
Who said Chinese are not interested in silver?
On the SGE, since the beginning of 2018, trading volume has been 481,659 tons of silver for 13,307 tons of gold, or 36 times more silver than gold. And delivery volume has been 37,033 tons for silver and 7,330 tons for gold.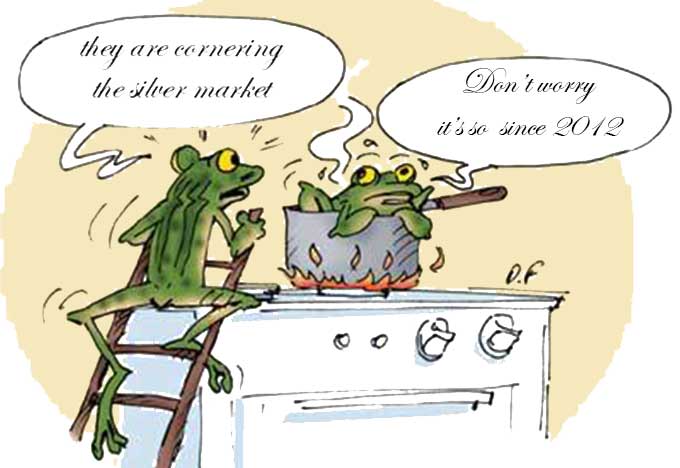 My most esteemed colleagues are looking at the EFP as the usual game to control the price of silver and charge the usual suspect JPM for that crime. But the game has changed. Chinese banks are playing the same game but to amass as much silver as they can at the lower price, knowing that silver, AFTER the monetary reform, will be at a very different price. It is exactly the same story as mining their unprofitable gold.
Some transfers on the LBMA are just scriptural in the books, but silver is moving from West to East exactly like gold, for the same monetary reasons.
EFP - CME Group
LBMA Transfers

January 2018

236 Moz

306 Moz
February 2018

244 Moz

233 Moz
March 2018

236 Moz

198 Moz
April 2018
385

Moz

248 Moz
May 2018

210 Moz

231 Moz
June 2018
345 Moz
229 Moz
TOTAL ON THE LAST SIX MONTHS

1 656 Moz

1 445 Moz
Looking at the CME silver stocks has no interest at all, since the physical silver related to an EFP has no geographical limitations. It does not have to be located in New York exactly as gold.
India, which used to import between 1999 and 2010 an average of 2,667 tons of silver, imported since 2011 an average of 5,375 tons. It's an average 2,700 tons of silver a year. In 7 years, it makes a total of 18,956 tons, and 2018 could add 6,000 tons if they continue at this pace. Most of this silver is delivered in the Free Trade Warehousing Zones (FTWZ). It could be delivered to Chinese banks that are willing to avoid the 17% VAT imposed on silver in China. Read this article about FTWZ in India.
The first steps of the monetary reform have been taken in November 2008 at the G20 in Washington and in March 2009. It has been a long process and it is not finished yet. China has been cornering the market slowly year after year, it is almost done… the temperature of the water grew so slowly that the frogs are cooked, but they haven't even noticed it yet.
Believe a French frog-eater ! Silver won't stay long at 14.99$.
The information contained in this article is for information purposes only and does not constitute investment advice or a recommendation to buy or sell.