Chartly, the explanation for last week silver's decline is simple.
Since the spring of 2022, silver prices have made a so-called "Cup with handle" pattern, i.e. a broad phase of decline below the $24 level.
For several months, the support at $18 was tested, and it remained solid. Buyers' orders were overwhelming at this level, forcing prices back up to resistance at $24 which the bullion banks defended by selling silver at this level. Prices then fell in early 2023, but buyers had raised their buying orders above $20. Banks failed to drive the silver price below.
The buying pressure was such that prices rose and broke the former resistance at $24 to rise for several weeks at $26.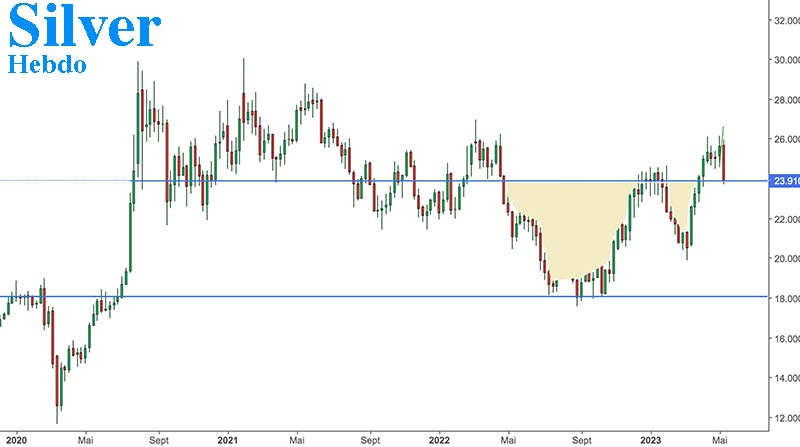 On the weekly chart, this "Cup-with-handle" pattern is obvious. To be able to climb higher, it is absolutely ESSENTIAL to confirm that the former resistance at $24 has become a support, i.e. that buyers have raised their buying orders to this level.
Last week, the prices therefore made a "pull-back" on this support. It may be retested for several days before prices resume their upward phase.
In chart analysis, the next phase is the "spoon" of this "cup with handle". The rise to come must be equal to the depth of the cup, i.e. $6. In other words, prices will rise to $24 + $6 = $30.

A historical silver bull rally fueled by a financial hurricane
The increase in Federal Reserve rates logically led to a symmetrical fall in the value of Treasury bills. Banks that have invested their capital in treasury bonds, reputed to be the most solid international value, are seeing this guarantee devalued, which has unbalanced the quality of their balance sheet. Seeing this, the investment funds withdrew their capital from these weakened banks, greatly worsening their financial situation. As a result, we are witnessing an bank failures epidemic in the United States.
The best way to protect yourself from these bank failures is to invest in precious metals.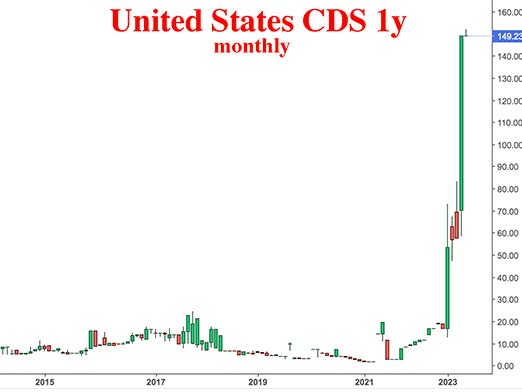 At the same time, there is a political crisis: the Congress, the Senate and the White House cannot reach an agreement to raise the debt ceiling. But the US Treasury is likely to run out of cash in 2-3 weeks. Treasury Secretary Janet Yellen has just declared that she will have to prioritize debt and default on some of the Treasury's debt. This therefore creates an extremely stressful environment for the financial and monetary markets. The cost of CDS (insurance) to protect against a default on US debt has risen from 13 to 150 in the last 4 months.
This comes at a time when the BRICS+ are accelerating the de-dollarization of global trade. 19 countries are already lining up to join this organization, including all the major oil producing countries. For 50 years, they have been the pillars of the international demand for dollars, the reference currency for buying the energy that is essential for all economies. The oil-producing countries have supported the financial system based on the dollar. This is no longer the case. They play against it.
In the background, a real estate crash is underway. The American real estate giant BlackStone, with its 8.5 trillion in turnover, defaulted in March on a debt of €531 million and prohibited the exit of investors, who invested in its investment funds, thanks to a legal trick. Nevertheless, American professionals are seeing a real collapse in transactions and prices. In Europe, there are no legal safeguards and real estate prices are collapsing. The STOXX Europe 600 Real Estate Price index has lost 45% since its peak in August 2021, in particular due to the freezing of bank loans. This phenomenon is expected to accelerate further, causing the value of real estate investment funds (FCPI) to fall even further.
When the banking system is multiplying bankruptcies, the US Treasury is preparing to default on its debt, real estate prices are collapsing and emerging countries are abandoning exchanges in dollars, there is only precious metals to protect its capital. Gold and silver are at the very start of an historic bullish rally.
The very first rising leg to come will run counter to all the hedge funds that have been playing a perfectly settled game of poker-liar for 50 years with their accomplices, the bullion banks. When the resistance at $30 is broken, we should see an anthology short-squeeze, which will drive silver prices up very quickly to $50, an all-time high. But it won't stop there.
It's up to you to protect your cash and your capital from the announced cyclone, as long as you can.
Reproduction, in whole or in part, is authorized as long as it includes all the text hyperlinks and a link back to the original source.
The information contained in this article is for information purposes only and does not constitute investment advice or a recommendation to buy or sell.